Since this is the last post in the series on characteristics of the emerging economy, I'll start with  links to the previous entries in the series:
It will require different skills
I'm sure that every "new" economy requires different skills, so I plead guilty to being obvious here. It may be just a bit less obvious to note that professionals will require a mix of general and specific skills. In our Foresight Program , for instance we sort out general and foresight-specific skills this way.
Generic Skills
Foresight Skills
Researching (finding, reading, understanding, citing; analyzing; synthesizing; interpreting, drawing conclusions, making inferences)Thinking (critical thinking, systems thinking, creative thinking)

Facilitating (group process, teamwork)

Decision making (values clarification, decision analysis)

Communicating  (curating, speaking, writing, visualizing)

Framing (problem identification & scoping)Scanning (current and future conditions; identifying new developments)

Forecasting (systems models, judgment tools, time series, scenarios, etc.)

Visioning (developing visions)

Planning  (developing strategic issues, plans, goals)

Leading change (change agent, change management, project management)

Source: A. Hines, drawing on P. Bishop, 2014)
I suspect every profession could – and perhaps should – produce a similar table.
It is also useful to think about the general trend toward automating certain tasks out of existence – thus eliminating the need for those skills.  Below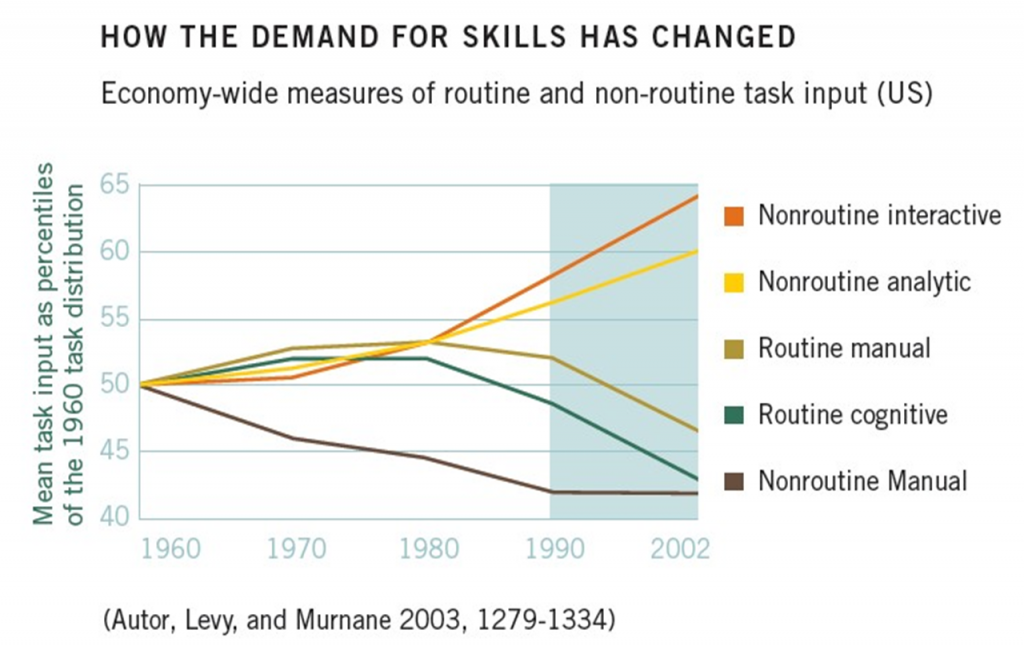 is a really useful chart brought to my attention by my UH colleague Peter Bishop that really lays bare what's happening in terms of automation. Routine tasks are being automated out of existence. It's the new division of labor, where machines handle the routine, and people the non-routine.
 I'll conclude by pointing you to an with an excellent infographic on future work skills from the Institute for the Future. It's been fun going through this emerging economy journey together. Andy Hines