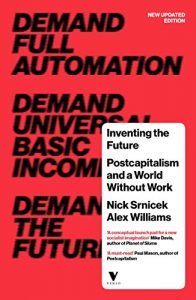 Neoliberalism, the baseline, has failed.  But the left has failed to capitalize (sorry for the double entendre there). In Inventing the Future: Postcapitalism and a World without Work, Srnick and Williams make a strong case for how  a reliance on "folks politics" has rendered the left opposition to neoliberalism ineffective.  Part of the problem is a defensiveness and reactiveness. In foresight we talk about reactive, proactive, and creative approaches to the future – with reactive being the least effective. Protests have been meandering and ineffective, with a sense of pessimism regarding the ability to create large-scale social change. Folk politics has "become out of joint with the actual mechanisms of power." The authors are careful to not to reject  working at the local level, but rather suggest it is one part of a campaign for what's next.
To put it bluntly, the authors suggest that transformation is needed, borrowing from the foresight lexicon in which new rules of the game are needed. This book is full of both insightful analysis of how we got here and plenty of interesting and useful suggestions for what's to be done.  The authors admire how neoliberalism patiently built itself into the dominant paradigm over time and suggests that the left ought to learn lessons from it. My words here — stop whining and start learning!  And: "a skill that the left once excelled at – building enticing visions for a better world – has deteriorated." I'm so pleased to see a compelling argument being made for thinking visionary and big. Bravo! I think it's a key point of the book: the need to think big, visionary, and strategic.  It makes a strong case for how small-scale, situational, and tactical thinking is not working and is not enough. It also suggests working solely on the fringes is not enough; the movement must get in the trenches with the power structure and work from within.
And for those familiar with the values work – this sounds pure integral to me: "for any leftist universal – it must be one that integrates difference rather than erasing it." I hope a useful contribution of our work can be to link the values shifts to "after capitalism." I think it has a fundamental role!
Here's a key assumption that seems to be a key part of 'what' s next' thinking:  "an essential demand in a post-work society is for a universal basic income."
In talking about some of the hurdles, I thought this was a particularly insightful one:  "Everywhere one looks, there is a drive to make people suffer before they can receive a reward." Isn't that the truth? Suffering is an expectation. This is the power of paradigm  — it becomes assumed and the original reason why is often lost. I'm not suggesting a vision of "no suffering" as practical, but let's not make it an expectation!
Another approach I enjoyed with this book in addition to big thinking, was the call to action. It reminds us that we can build ourselves the world we want. That sounds like a Polakian image of the future.
The ambition here is to take back the future from capitalism and build ourselves the twenty-first-century world we want. Bold thinking…..three cheers! – Andy Hines
Save
Save