I've been involved in Summer chats with students about their progress in the program and about the future in general. Now that we can all exhale after a semester of work (and a research draft out the door), it's fun to talk futures. Invariably, things come up that me make me go hmmm. Thus the title of the post about transition in foresight work.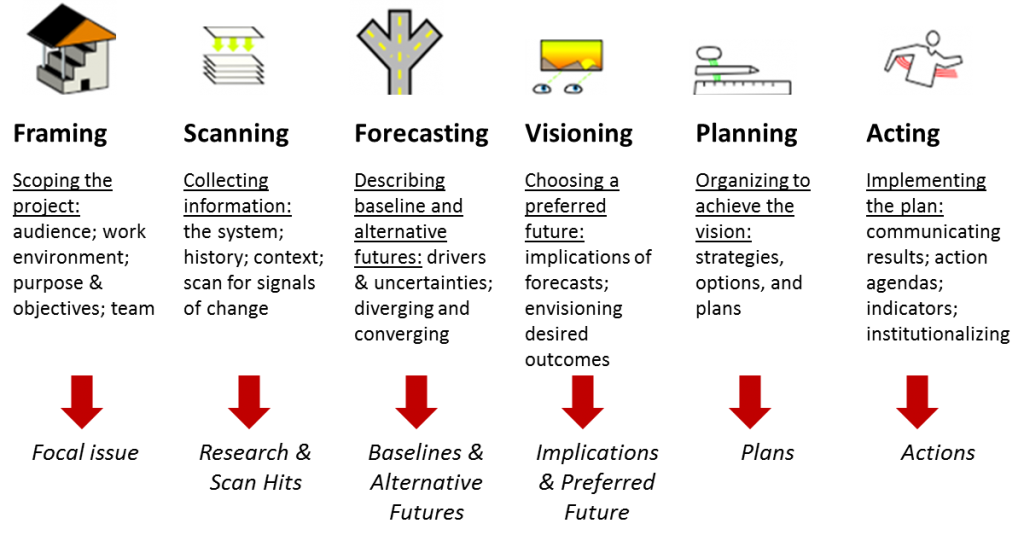 We were discussing the value-add of foresight. I was pontificating about the modularity of the Framework Foresight process – how it was designed to accommodate other methods and techniques within it. Which led to a discussion about the various ways that each of the six activities can be carried out. I believe I said that was the easy part, and that the challenging part was the transition between the activities. Put another way, a key value is knowing what to take forward from each activity to the next. Crafting the transition.
I came to this is a discussion about how futurists are being asked to go "further" down the value chain toward action. I'd say that we futurists are less differentiated from others in the "influencing the future" activities of visioning, planning, and acting. That is, others can do this just as well as us (or at least it's close). But, I would also say that few can take the output of the first three activities — framing, scanning, forecasting – and transition them into the "influencing the future" activities. Thus, it's the transition between these that provides the great value-add. And taking that a step further, the "smaller" transitions between the activities are also perhaps an under-appreciated value-add. Masters of transition….hmmmm. — Andy Hines
PS: The Foresight Competency Model is soon to be published in World Future Review.  Great news, though it means some work for us in adjusting our terminology to synch up with it. But more on that later.
Save