At Houston Foresight, we've announced that our Gathering next spring will be on "Scanning the Fringe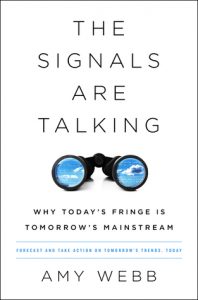 ." So I'm looking for interesting work that touches on the topic, which drew me to Amy Webb's The Signals Are Talking: Why Today's Fringe Is Tomorrow's Mainstream.
The book is focused on her approach to trend identification and analysis. Her scanning is aimed at identifying an emerging trend – really a big trend, or we might say macrotrend, driver, discontinuity. The idea is to pass on the identified trend to [mostly] tech clients so that they can develop a product/service/offering around it. There are many very interesting and well-told stories of how blockbusters were based around understanding a new trend [she doesn't take credit for enabling this, but simply points out how the trend ID & analysis can work].
A quick side note: Readers of this blog might find interesting is that the scenario step in her methodology is done in order to validate trends[s] she is identifying. So, the fundamental unit of analysis in her work is trends. In our Framework Foresight method at Houston, we primarily use trends are inputs to the baseline/alternative futures).
We are in strong agreement that scanning is both a challenging and fundamentally important part of the process, as it is the foundation of the work that follows. There is no pat formula for tapping into the fringe, at least neither of us have found it yet! What I took from the book and a chat with Amy, is that we can:
vary the sources that we consult. Not just articles and blogs, but also discussion boards, social media, interviews, patents, and so on.
broaden the context of scanning beyond the specific topic, and scan the periphery of the topic.
and of course recognize the today's fringe is tomorrow's mainstream (as the book title suggests)
Yep, yep and yep So, we'll  continue to probe and question how the best scanners do it, with Amy's book a nice stop on the journey. — Andy Hines
Save