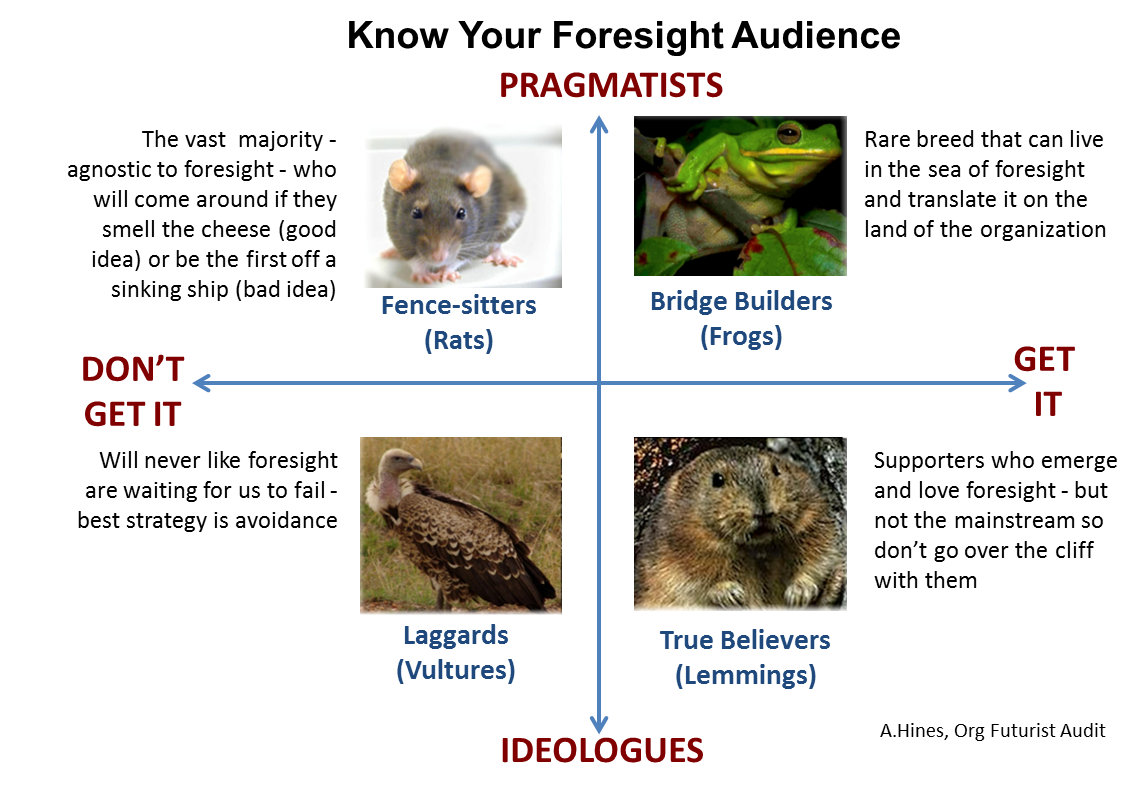 Futurists should expect that their clients, or the clients of their clients in particular, will be perceived as "resistant" to change. If this is a revelation, you probably have not been doing the work long enough, or you have an excellent knack for picking clients. It is not uncommon for futurists to get together and share war stories of how difficult it is get clients to "see the [foresight] light." There can be a healthy aspect to venting, in particular if it leads to a discussion of what worked. And an unhealthy one in which we might be guilty of blaming the victim.
So…..it's time to stop talking about "resistance" if it's somehow abnormal. It's time to stop being surprised by it. Not only should we expect it, we should understand it. For years I've used a simple 2×2 image to characterize the reception to foresight/change in organizations. In a nutshell, there a few champions or translators (frogs), a few hostile resistors (vultures), there is a small community of support (lemmings), and the vast majority of people in the organizations are neutral or opportunistic (rats).
The rats will view foresight and the change it suggests through the lens of self-interest: does this help me or not? It is completely natural that the bar for foresight being perceived as "helping me" is high – it is much easier for most of us to stay the same than it is change. Change involves risk. It is natural to be hesitant to change. As futurists, we are asking people to change, therefore asking them to take risk. The burden is on us to make the case for change compelling enough to be enough to overcome the risk.
Is part of our problem that we fail to make a compelling enough case for change? And then we blame the client for "resistance?"
At the recent APF's Professional Development Seminar on a panel discussion on Best Practices in Foresight, I was moved to claim "Embrace the Resistance." Not only should we expect it, we understand it, acknowledge it, and work with it in building our case for change – in other words we embrace it. Andy Hines