I've been meaning to revisit – or visit for the first time — foresight classics. I started slowly with a two-part review of Olaf Stapeldon's Last and First Men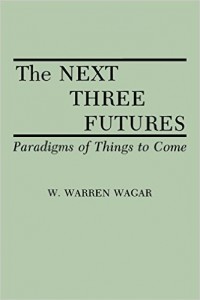 and Starmaker (part 1) and (part 2) in 2013 and and in 2014 I revisited Future Shock for APF Compass. This year it's W. Warren Wagar's The Next Three Futures: Paradigms of Things to Come, which came out in 1991. Before I get into it, an early New Year's resolution is shoot for a quarterly schedule in 2016.
Wagar taught courses on the future for many years at SUNY Binghamton, such as "History of the Future," "World War III," and "Alternative Futures." Before getting into the main idea of the book, he did a brief review of the state of the field, that brought up a few interesting items. For instance, he estimates that in 1991 that "there may be only a few hundred full-time, self-styled futurist in the US and a few hundred more elsewhere." We are still working on getting a handle of the number of futurists today, but it's probably safe to say that there may be an order of magnitude more. He also noted the need for a "unified theory of futures inquiry," another issue that we're still wrestling with today. He also suggests that HG Wells ought to be noted as the founder of the study of alternative futures. He surveyed some of Well's work, including his call for "Professors of Foresight." While there have been professors exploring the study of the future since the 1970s, my title is explicitly Assistant Professor of Foresight – the prophecy has been fulfilled! An interesting tidbit.
To the book. What is notable is his categorization of paradigms for thinking about the future as technoliberals, radicals, and counterculturalists. He suggested that the technoliberals are most often in North America and includes an "abiding faith in the power of technology and managerial technique to solve problems." Herman Kahn was a leading figure in this school. The radicals are equated with socialists, social-democrats or Marxists. They are not many within the "institutionalized futures movement" who hold this view. Nonetheless, the view hopes for "the demise of the capitalist world-system, with all its fester injustice and its replacement by some form of workers' polity or commonwealth. He cited Barry Commoner and Robert Heilbroner as figures in this school. Finally, the counterculturalists are "more concerned with the quality of life than with its quantities….and a preference for local and communal autonomy." He noted a close association with New Age or transformational ideas. Willis Harman and Hazel Henderson are cited as representative figures here.
The balance of the book explores different aspects of the future, such as the environment, economy, war, and living, through these three paradigms. The timeframe often extends into the distant future, as he notes that changing paradigms takes a long time. I had a few reactions to the book. First, I enjoyed his survey of the field and its history. The substantive chapters on the future were interesting and worthwhile, and brought me back to my start as a futurist in the early 1990s and the state of thinking about the future back then. His three paradigms scheme made sense. I think technoliberals and counterculturals are alive and well today, but perhaps under different headings. The radical paradigms seems the most dated of the three, and likely reflects the specter of the Cold War. But even here I wouldn't be too quick to dismiss the notion. Futurists and others today are in the heat of debate on how to deal with the coming automation of more and more work and what that means for how we organized economic activity. Various forms of a basic or guaranteed income are being discussed fairly routinely. These ideas fit snugly into the radical scheme, although one is typically careful today to omit the words socialism and communism in many areas, certainly in the US.
In my own work, Consumershift, I've adapted the ideas and language of Inglehart's World Values Survey and Beck & Cowan's Spiral Dynamics to talk about traditional, modern postmodern, and integral worldviews. The technoliberal paradigm is consistent with a modern worldview. The radical is a bit trickier to place. I would put it in modern, based on its emphasis on materialism, but also recognizing that it was called for the demise of the modern project. The counterculturalists fits nicely into the postmodern worldview, perhaps with a smattering of integral.
It was an enjoyable read that caused me to reflect and also helped to reinforce a sense of continuity with our futurist predecessors. Next up is Macrohistory and Macrohistorians – we'll see how well I do on my New Year's Resolution. – Andy Hines.