Personalized Professions describes a "transformation" scenario archetype [see description below]
Successful new organizational and business models emerge around knowledge work that frees workers to personalize their contributions. Work is a thing one does—largely driven by personal interest—rather than a place that one goes to, such that all workers are now thought of as knowledge workers.

Organizations become more fluid and open to keep up with workplace virtualization—and become more like "platforms" that continually morph than static institutions. New business models also emerge to acknowledge this shift—profit-sharing models, licensing arrangements with DIYers (do-it-yourselfers) using 3D printers for distributed production, and so on. The spread of knowledge is so great that the distinction between knowledge workers and manual workers has largely disappeared—all workers can be thought of as knowledge workers in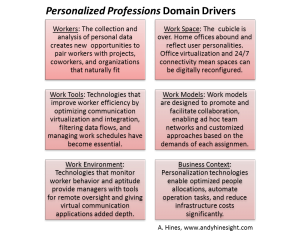 this scenario.
Knowledge workers have unprecedented flexibility in determining both the nature and the context of
their employment—and most knowledge workers now act as free agents. Sophisticated online marketplaces emerge to help match employers with potential workers based on the relative value of their unique skill sets and detailed work histories. Organizations are able to source perfectly matched teams on-demand, but with work now dominated by free agents companies are forced to reevaluate the nature of key elements of their operations—from IP to compensation and IT investments.
Businesses use sophisticated information monitoring technologies like contextual location awareness and complex event processing to map contributions within and across virtual teams and have developed novel revenue streams for capitalizing on the knowledge they produce. These market conditions have seen significant changes: new, product-specific, profit-sharing models; DIY production processes licensing to consumers with 3D fabrication labs; and niche consultation services. Boomers "un-retire" as these new market conditions enable them to generate revenue by providing a personal touch in supporting knowledge processes and hyperpersonalized customer-service offerings.
The knowledge work scenarios were developed using the scenario archetype approach* describes typical patterns of change in a "system" (in this usage, roughly translated as "the way things are currently done). Let's briefly review:
Continuation: The system moves forward along its current trajectory. This is the "official future" and usually considered most likely.
Collapse: The system falls apart under the weight of "negative" forces.
New equilibrium: The system reaches a balance among competing forces that is significantly different from the current balance.
Transformation: The system is discarded in favor of a new one with a new set of rules
— Andy Hines