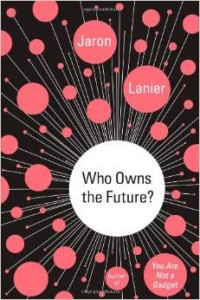 I hope you'll pardon the mouthful of a title, but it seemed useful to convey a big gulp of ideas for organizing economic activity in Jaron Lanier's Who Owns the Future? (NY: Simon & Schuster, 2013). I was drawn to it by suggestions that it contained an interesting take on the big economic question of the future – how do we distribute wealth without jobs? My own tendencies have been to embrace the move away from jobs and look for a new, probably non-capitalist distribution system – in the short term, some sort of guaranteed stipend. But I certainly don't feel confident in how this sort of scheme might be crafted or play out.
Lanier indeed offers a very interesting alternative. We share the same premise that automation/ software is going to create a job-creation challenge – "software could be the final industrial revolution." But before we get to his proposed solution, he adds some interesting insight into what's going on and is likely to happen. "When we make our world more efficient through the use of digital networks, that should make our economy grow, not shrink." For instance, Kodak employed 140,000 and was worth $28 billion at its height while Instagram and its 13 people (yes, 13 is correct) were sold for $1 billion. The value of Instagram comes from the millions of users who contribute to the network – but they are not paid for their contributions. Put more bluntly, "ordinary people 'share' while elite network presences generate unprecedented fortunes."
He gives one pause to think about what a sharing economy really means. A key point is that "information is free" is only workable if most of the overall economy is not about information. But we are heading in that direction, and if we keep the same economic system the only way it can grow is if more information is monetized – not less (which is the current trend). He suggests that we are in effect being lulled to sleep by short-terms gains in efficiency and lower costs provided by automation — until we get the inevitable pink slip (driven by the same automation). "You get an incredible bargain upfront, like super-easy mortgages, insanely cheap retail items, or free online music, but in the long term you face reduced job prospects." Eventually there aren't enough paying customers to subsidize the free information. And [in my words] that's all folks – game over.
On to the solution. Lanier believes there is a way to preserve the market and capitalist order. A key premise is that "digital information is just people in disguise." The basic idea is that people are sharing their value, but not getting compensated for it. Who is? He suggests the intriguing notion that it's those in charge of what he calls Siren Servers (playing on the sirens from the Odyssey), big computer/server networks network that are powerful enough to manipulate a market space. In his words they are "characterized by narcissism, hyperamplified risk aversion and extreme information asymmetry." The siren servers gather data from the network, often without having to pay for it, analyze it and use it manipulate the market, whether that's a social network, an insurance company, a derivatives fund, a search engine, or an online store. Amazon, Apple, and Google are examples of siren servers.
The solution is simple, but not easy: "each individual will be the commercial owner of any data that can be measured from that person's state or behavior." These nanopayments will add up and motivate people to contribute to an information economy. For example, say you meet your future spouse on an online dating service. Your experience is correlated to help match others using the service, and when a couple gets married, you get a nanopayment as a result.
Okay, I think we see that argument, and now a really provocative idea. Eliminate data copying. Huh? Yep, that's right. He observes that "when copying is easy there is almost no intrinsic scarcity and therefore market value collapses." And remember our challenge here is to create value to keep the capitalist market economy going.
He goes back to Ted Nelson's (of hypertext fame) Xanadu project idea. "The first principle is that each file, or unit of information, exists only once – nothing is ever copied." A core technical difference that the network links need to be two-way instead of one-way – in effect it is always possible to link back to the original source. This is important for determining value and also for helping mitigate the potential for distortion. It really does make a lot of sense. Of course, moving to such an approach would be a pretty massive undertaking, in the sense that many vested interests would certainly resist it, and even the idea of not copying seems counter-intuitive (you are allowed to "mash-up" in his approach).
He is not saying that only markets can work: "should a day arrive when it really becomes true that very few people area able to offer anything of value to anyone else – if everything becomes automated to the point that almost no one is really needed, but only needs – then obviously the very idea of a market must be retired." My thinking has perhaps jumped the gun in favor of retiring the market. But with Lanier's ideas in hand, perhaps not so fast? Andy Hines