As a consumer of future visions, one is typically offered one of two main dishes: the super-fast, blurry, world of accelerating exponential technological change, and the slow, mundane, often obstructionist world of the "people." My advice to my futures students is not to get overly enamored with either, understand both, look in between, and look outside.
But let's face it – the world of super-fast tech change is very sexy. The people world is boring, and painting a picture of alternatives is maybe less boring, but not as sexy as tech change. Super-fast tech change has its own university, Singularity U, which I readily admit is far more popular than our study of alternatives futures here at the University of Houston. One might say that the parent or uncle of Singularity is the MIT Media Lab, which first captured the vivid picture of the emerging digital world with Nicholas Negroponte as chief prophet. It was exciting stuff, no doubt. For various reasons, the Media Lab has been somewhat eclipsed by Singularity, but they are making a bid to come back, with an updated manifesto called "Whiplash: How to Survive our Faster Future."
The title pretty much gives away the story. Be prepared to be whisked away on a magic carpet ride of technological wonders. And they are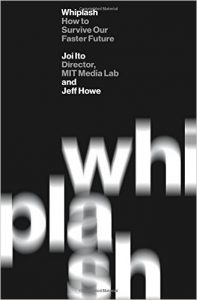 wonderful. We should know about these great things, and be grateful that smart people are thinking about and inventing really cool things. While the book is basically a story of the reinvention/relaunch of the Media Lab, it is organized around some very useful principles
Emergence over authority
Pull over push
Compasses over maps
Risk over safety
Disobedience over compliance
Practice over theory
Diversity over ability
Resilience over strength
Systems over objects
These are excellent principles for navigating the world of super-fast tech change. But they really don't help us in the world of people. It seems to me that we need more amphibious works that can live in the sea of tech change and the land of people (and their rules, institutions, interests, politics, etc.)
I recommend the book as an excellent trip through the world of super-fast tech. I will alert futurists that they may be annoyed by the all-too-common lazy treatment of us. Like, not bothering to get the field's name right – futurism (although in fairness we're still debating it too). Futurists are lumped in with experts, stock pickers, and predictors. The authors, Joi Ito and Jeff Howe, assume that futurists don't do anything but think big thoughts – an old view (which, in fairness, we have not adequately corrected!). You'll see that I think any time we might complain about our treatment, we have to take responsibility for our part in it!
These two worlds continue to co-exist. Whiplash gives us some excellent insight into one of them. – Andy Hines