There are different views among futurists and others about the nature of the [economic] transition. Futurists, of course, place the transition of the economy in context with changes in others aspects of the system – to keep it simple here let's acknolwedge economy with society and environment (the Triple Bottom Line). In that light some futurists characterize what's ahead as a global emergency or the global megacrisis.
I really admire the simplicity of Houston Foresight Emeritus Professor Oliver Markley's image of Space Earth, and it's also been interesting to see that graphic evolve over the years. He sees a tipping point (our "transition") and his best case is a soft landing, the middle case is a relatively quick recovery from a hard landing, and the worst case is a hard landing from which there is no easy recovery.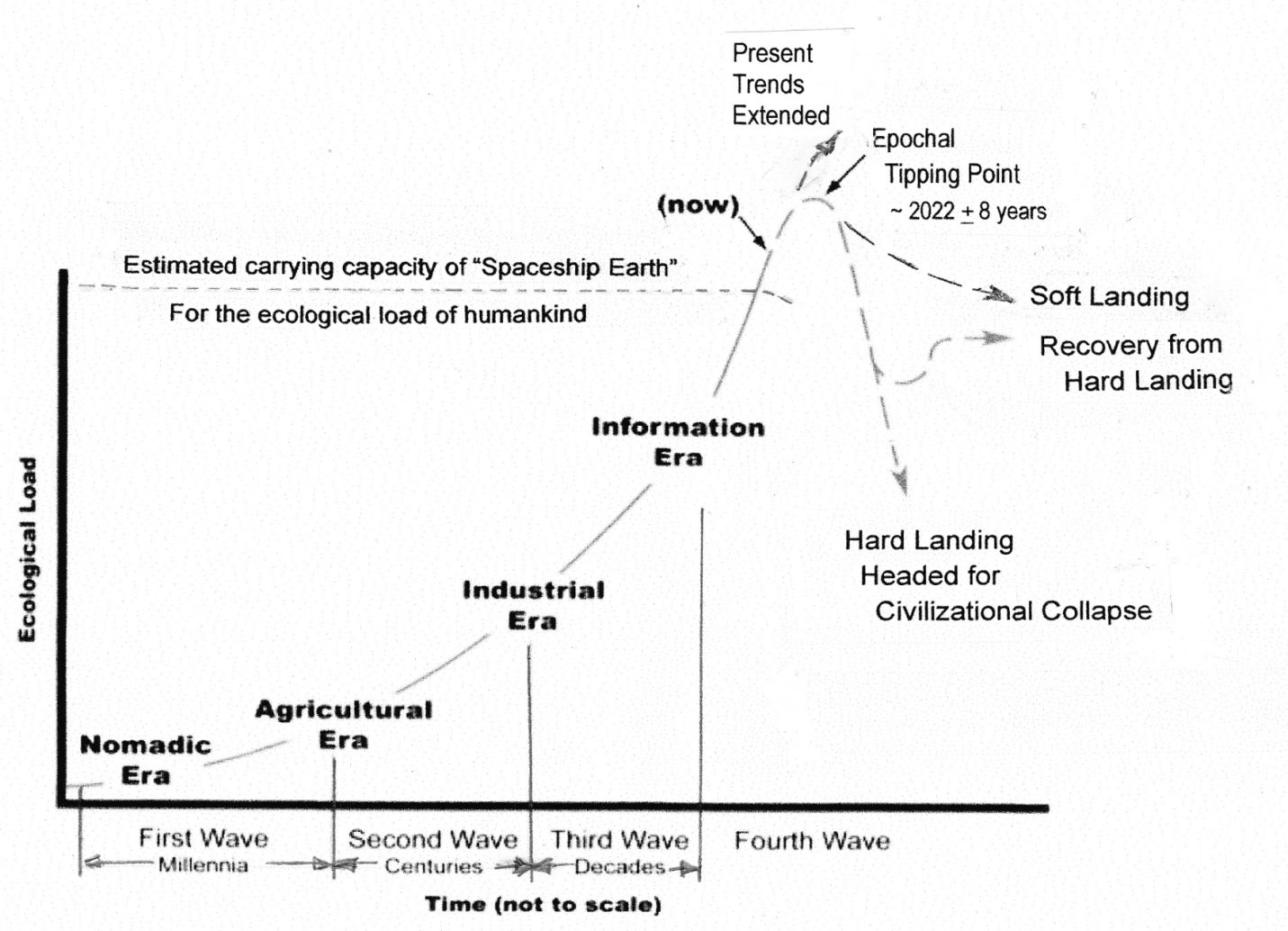 SOURCE: Oliver Markley, PhD, Intuition-Based Visioning  Strengthening Your Inherent Capacity for Improved Insight, Foresight and Wise-Choosing, Presentation, University of Houston Foresight Program , 9/30/13.
Use of the term "landing" in and of itself suggests the transition is more likely to be difficult than not. While I suggested in my last post that there are signs of the "new" emerging, they are still weak in the face of the existing system. We might be more optimistic about the potential for a smooth transition if we were hearing more about it from the power structure, but we're not. It often feels like, among some of we futurists anyway, that we're just talking to ourselves, and there is neither a great deal of awareness or preparation for what's ahead, as I discussed in my "Shifting Values in Time" piece.  
Therefore, it may be that a soft landing is our best hope. I think that's a "realistic" picture of where we stand – of course, there is the possibility of new developments that could influence that trajectory — let's keep our eyes peeled for those indicators.
Next, we'll look at some of the characteristics of the economy ahead. Andy Hines