Interesting how many times I've rewritten this! I keep seeing different angles, but not convinced that's it, trying another. So, the initial idea was to play with a future in which delivery was super-advanced, and think about what that might mean for "place."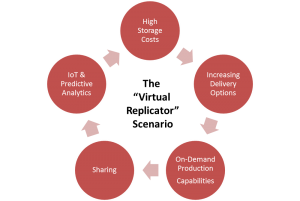 Imagine a "virtual replicator" scenario where we don't actually beam atoms Star Trek style, but with 3D/4D/nano printing and super-fast delivery such that it's almost like we have a replicator. It's a just-in-time world of nearly anything to nearly anywhere at nearly anytime. Okay, let's exhale now.
What has to happen? To keep it simple, we can look at the relationship between storage, delivery, and compatibility with decentralized production, the state of sharing, and an enabling technological infrastructure of IoT and predictive analytics. We can probably get a sense of timing of affected industries by looking at industries where these five factors come together favorably.
Storage costs are judged high (at least relative to delivery – have you ever thrown something out and said you'll buy another, rather than store it)
Delivery costs are falling as capabilities rise (a fairly big assumption that costs will come down in the short run. Early drones will probably be more expensive)
Print-on-demand technologies are suited to key product lines
Move to "sharing" means people are less inclined to need to own/possess
IoT and predictive analytics as key enablers behind the scenes
I was writing this at a construction industry event — candidate #1?
Peter Bishop developed a technique called baseline analysis in which we identify the key assumptions of the baseline scenario, challenge those assumptions, and identify the support or evidence for that alternative (I would not call the "virtual replicator" a baseline, but the principle holds). Without slogging through each here, I think we can see how there are viable alternatives to each of the five drivers above, thus we shouldn't assume the path to a virtual replicator scenario is going to be a cakewalk. A lot of things have to go well, as they say.
And we also look at history in our Framework Foresight process. The "delivery" topic in my view has consistently moved slower. Take online ordering and delivery of groceries, which I first looked at in the 1990s (one version of which we called "the return of the milkman") Almost nobody likes going food shopping, so this should have been easy….right? History suggests this will be tougher than we think.
I need to get back to work, so let me share three somewhat random thoughts/insights that emerged during the numerous re-writes:
Peak trade? Is global trade (as a percentage of all trade) at its peak? In the virtual replicator scenario, what things really need to be shipped around the world?
Is "storage" a candidate for our dictionary of obsolescent concepts? The popular example is today is the urban parking garage, but when you start playing with these drivers. Things like "if you don't own it, you don't need to store it."
It's not always worth the effort. Existing systems, even if less than ideal, they are often good enough/not so bad that they are not worth the effort of changing.                                                                                                         — andy Hines