[You might visit Warren Zevon's Lawyer's, Guns, and Money to get in the mood here.….]
A lot of foresight work is aimed at innovation. Foresight can be used to feed the innovation people with more future-friendly ideas and concepts. Much of my work as an organizational futurist was along these lines. It enabled me to learn a lot about approaches to innovation, such as Von Hippel's Lead User technique, Ideo's Deep Dive, and Christensen's Innovator's Dilemma. Much of my work then was adapting, combining, and cut-and-pasting between the foresight and innovation worlds.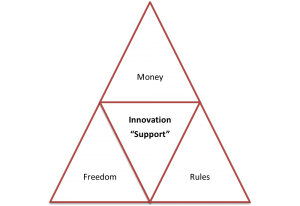 I've been thinking about some of the key ingredients/enablers of innovation efforts, in the sense of a workforce or team being instructed or mandated to become more innovative. In my experience the "Big Three" coming from above are:
Money: the amount the team has to spend
Freedom: the amount of latitude that team has to come up with solutions; as long as a rule is not broken, it's fair game
Rules: sorta the flip of freedom; the hard-wired constraints that the team must work within
Let's look at a few combinations, in order of my preference:
Money and freedom: this is rarefied air in my experience. I've heard that Google is like this. [PS: I've heard too much money is harmful to innovation; I understand and appreciate that, but I'll take my chances.]
2A. Money and rules: it's really nice to have some money to work with….some rules ain't too bad.
2B. Freedom: tough call on which is preferable, this one or money and rules, thus 2A and 2B. It is really cool to have a challenge and be totally free to attack it (totally is a bit of a relative word, but let's not split hairs). It takes a while for teams to really trust they have freedom, but when they do, really cool things can happen, even without money.
Rules: probably the most common approach, very often (always???) presented as 2B. Freedom, until teams start doing uncomfortable things. This is crazy-making, demoralizing, and many times this is when the external consultants come in to work with the resulting non-innovative culture (being facetious). It's more than we can get into here, but my experience is given enough time, even the seemingly least innovative culture has seeds that can be cultivated, but they haven't been watered, or they've been watered with Brawndo.
BTW, for what its worth, I will take a high-performing team every time over all the above. But we're focusing on the cards or the hand that teams are dealt. Andy Hines