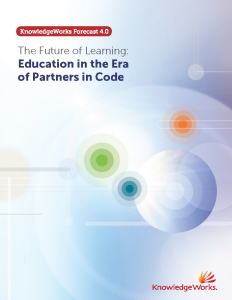 What's on my mind here is the potential perniciousness of ubiquitous feedback/performance rankings/predictive analytics/AI buddies and the like. Of course, it's not the technologies or data that is pernicious, but how we use it. The challenge is that as we gain the ability to measure everything, we will, and, particularly in a "modern" values/worldview (still dominant in most of the world), everything will become a competition. (see values)
I'd been pondering this idea (in part because I just finished grading, speaking of pernicious), and then really dug in at a very useful two-day implications session at Knowledge Works, a "thought leader" education foundation in Columbus, Ohio. We explored the impact of their recent Forecast 4.0 Partners in Code. It is freely available, and you should get it, even if you're not directly interested in education. Just the 5 drivers alone are worth the effort, not to mention the very innovative way the piece is put together:
Optimized Selves: Discovering new human horizons
Labor Relations 2.0: Negotiating new machine partnerships
Alternate Economies: Finding the right niche
Smart Transactional Models: Creating self-managing institutions
Shifting Landscapes
Innovating in volatile conditions
It was fun and useful to really extend out into the future, and imagine the end game for a bit, before the inevitable realities of the difficulties of change yanked us back to cold reality. There's still time to really think about how we want to use this data and technology, and not blindly quantify every aspect of everything, although I must confess that I think we are headed in that direction. Some of it, I suppose is a natural tendency to excess. Gamification is a nice development, for instance, until we bludgeon it to death by trying to make everything today…."Andy, you had the healthiest bowel movement among your peer group today, congratulations, you've earned 10 points on your social impact score." Or the danger of algorithmic pigeonholing – "you should do xyz — but I want to do ABC – I'm sorry your score indicates that you should do xyz….next in line." That kind of madness is upon us. You can be better, and should be, all the time, in everything. But of course there will be lots of super good things we can do.
I guess my call or plea to readers is to be voices of reason in the coming age of quanting (does that work?). We can adopt our own personal strategies, but let's do all we can to help sanity prevail.