…to new audiences to get them interested in using futurists and foresight
If we think about the market for futurists, there seems to be a growing introductory segment coming to us interested in foresight. I assert we have learned to talk to pretty well to these folks — once they've indicated that interest! But the larger market, unaware of futurists, is not hearing us, and my sense is that we are not reaching them well.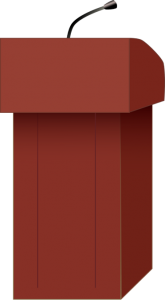 We discussed this at the APF Professional Development meeting this weekend. We know that some billing themselves as futurists – and some not – are reaching large audiences with keynotes. And I laughed about how some of my videos have a couple hundred views while other futures-related videos are in the thousands, hundreds of thousands, and even millions! It's not clear if they are bringing people into foresight, but at the very least their message is attracting attention. Of course, our core message of uncertainty and alternatives is generally going to lose out to simple formulas and easy answers delivered in an entertaining format. Is there anything we can learn from this without losing our core message? We teach our Houston Foresight students a short elevator speech and a longer stump speech to communicate to people and audiences unfamiliar to foresight. We teach it in more of an informational way, rather than a marketing one. Maybe, hmm, it's time we develop a futures sales pitch?
Thus we get to the title of this post – your ideal keynote to entice an audience to use or services. What would be some key elements of that talk, e.g., case examples, trends, stories, data, great graphics, etc. And what would be your core message.  – Andy Hines