In my emerging scheme for organizing the concepts for what's next and after capitalism, I am placing the sharing eco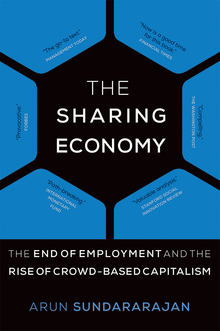 nomy and its brothers and sisters in the Horizon Two Zone of Transition (and innovation). To put it simply, it seems to me that these concepts have one foot in the old neoliberal capitalist world (H1), and one in the emerging visions of H3. I found a nice book on sharing: Arun Sundararajan's The Sharing Economy: The End of Employment and the Rise of Crowd-Based Capitalism that provides us some great ideas to play with.
The sharing family of concepts has some aspects of traditional markets and some aspects of "new" gift ideas. Some is profit-motivated and some is purpose-driven. Airbnb hosts typically join sharing platforms to make money. Couchsurfers do it as a way to meet people or to make new friends, as well finding a place to stay. Of course there is lots of overlap between these two.
Lawrence Lessig notes this dual nature in his 2008 book Remix: Making Art and Commerce Thrive in the Hybrid Economy" observes that there exists not just the commercial economy, which meters access on the simple metric of price, but also a sharing economy, where access to culture is regulated not by price but by a complex set of social relations." Botsman and Rogers' Rise of Collaborative Consumption observes that access in hyper consumption is defined by credit, whereas access in collaborative consumption is driven by reputation.
He also bring in Juliet Schor's notion of "stranger sharing," which shift the source of what we value commercially away from traditional corporations and toward a crowd of entrepreneurs we find through a digital marketplace.
Perhaps the shift could be summed up as:
Some questions
There are still lots of questions about how this might work:
Will the sharing economy ultimately represent the rise of the microentrepreneur—a generation of self-employed workers who are empowered OR will it represent the culmination of the end of broad-based and high standards of living that the United States witnessed in the 1950s and 1960s—a disparaging race to the bottom? For instance, Robert Reich asserts that a better name for the sharing economy would be the "share-the-scraps economy."
While there's clearly tremendous potential efficiency from "access over ownership," are peer-to-peer rental markets viable at scale for anything other than really expensive assets like homes and cars?
Might we witness the emergence of new guilds—worker organizations that set their own standards of service?
There are some interesting ideas relating to p2p and Blockchain as well, but let's save that for part 2. – Andy Hines