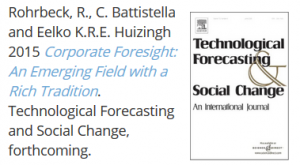 I am very pleased to have nominated "Corporate Foresight" by Rene Rohrbeck and his colleagues for an APF Most Significant Futures Work Award for 2016 in the category of "Methods and Practice." They edited a special issue on corporate foresight for Technological Forecasting & Social Change, Vol. 101, December 2015, pp. 1-181 – a list of the articles is below.
It is nice to have an opportunity to recognize the great work he has been doing in the area of corporate foresight from his base of Professor of Strategy at Aarhus University. His program offers a research PhD on Organizational Future Orientation or Corporate Foresight. He has done much to bring to light the foresight work that has been taking place in corporations. This particular work is collection of articles from insiders (and their collaborators) that provides an outstanding account of the state of corporate foresight. The articles are organized into four  sections (1) Organizing Corporate Foresight (2) Individual and collective cognition for corporate foresight (3) Corporate foresight in networked organizations (4) Quantitative evidence of value contribution from corporate foresight. [In the spirit of full disclosure, I contributed a piece for section 2].
As I've said many times, I believe it is vital for the future of our field to have a stronger presence "inside." My dissertation, which focused on integrating foresight into organizations, noted the need for skilled futurists on the inside who can keep a continuous focus on the future as well as having an intimate feel for the internal climate and what's possible. I certainly include government, NGOs, non-profits etc. as well as corporate, but it is quite useful to have a dedicated focus on a particular sector (corporate in this case). Rohrbeck and his colleagues have done us a great service in this area and it is high time that we recognize his great contribution via this outstanding collection.
The APF MSFW program annually reviews and recognized outstanding foresight work, both to recognize authors as well as promote examples of outstanding foresight work. Andy Hines
List of articles in the special issue:
Introduction
Organizing Corporate Foresight
Individual and collective cognition for corporate foresight
Exploring the cognitive value of technology foresight: The case of the Cisco Technology Radar, Siri Boe-Lillegraven, Stephan Monterde
Visionary competence for long-term development of brands, products, and services: The trend receiver concept and its first applications at Audi Rupert Hofmann
An organizational futurist role for integrating foresight into corporations, Andy Hines, Jeff Gold
Thinking patterns and gut feeling in technology identification and evaluation, Christian Willi Scheiner, Christian Vincenzo Baccarella, John Bessant, Kai-Ingo Voigt
Learning to use the future: developing foresight capabilities through scenario processes, Martin Rhisiart, Riel Miller, Simon Brooks
Corporate foresight in networked organizations
Quantitative evidence of value contribution from corporate foresight
Save