Preparing for a World That Doesn't Exist – Yet made me think. And for that, I judge it a success. It was inte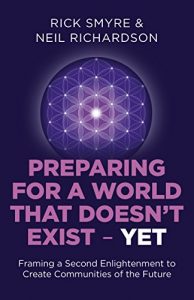 restingly timed, as I was just reviewing Srnicek & Williams Inventing the Future, which presented a masterful critique of the ineffectiveness of the left based on its adherence to "folk politics" (focused on local and the particular at the expense of the global and universal). And here comes Smyre and Richardson, advocating community focus and leading an international movement known as "Communities of the Future" (seeking to marry local and universal).
I agreed pretty strongly with the critique of Srinek & Williams — staying too local ultimately doesn't move the needle. They also suggest the need for vision, big thinking, and getting the mainstream aboard (as opposed to "sniping" for the sidelines). There is indeed a lot of big thinking in "Preparing for a World…," although I did not come away with a clear sense of that vision. That may well be by design. My search for a vision of what's after capitalism may be a trip down the rabbit hole. Maybe "Preparing" is right in identifying general principles and seeing what emerges. That could be where we end up.
My sense, however, is that we will need something more defined and compelling – an image of the future in the sense of Polak, to drive the mobilization. In "Preparing," the authors do a tremendous job in laying out what needs to happen. Their hope is that community mobilization will be enough to drive the movement. I'm not sure I see it yet. I think most readers of this blog would agree with their principles, but I suspect that they might also agree that this is not enough. The quest continues. I am really grateful for this work in making me pause, and dig at what seems to be missing in all the works I've looked at so far. Local is good, but not too local (folk politics trap). Need big thinking, but also need action plans. Yep. But….the compelling image??? Hmmm – Andy Hines