We have made money more important than it should be. The economy is bigger than it should be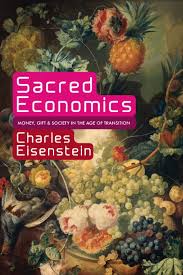 . Charles Eisenstein in Sacred Economics suggests a new approach to money and the economy – namely, less of both! In short, in our search for economic growth, we continue to monetize more and more things that used to be "free." The challenge is that there is little room in any highly developed economy for further domestic growth. And the author argues that "official economic statistics have hidden the probability that the Western economies have been in a zero-growth phase for at least twenty years."
In this light, the idea of shrinking the economy may be less crazy than it seems at first. We could simply de-monetize things that no longer need to be monetized. And we could choose differently regarding consuming more or working less. (Hint: work less).
The sacred idea involves moving away from money and growth as "ends," and re-situating the properly as "means." It would move us way from everything having a price. Indeed, the sacred economy builds most closely on gift economy ideas, as well as some from ideas around commons. A key assumption is that giving triggers virtuous circles and win-win dynamics, in contrast to today's economy fueled by winning and losing. Gift giving and receiving creates an ongoing tie or relationship between the participants, much different from the anonymity of cash and online purchases. He also steers us away from barter economy ideas, noting that "barter, in the strict sense of moneyless exchange, has never been a quantitatively important or dominant model or transaction in any past or present economic system about which we have hard information." It's a fine point for sure, whether we call something barter or ritualized gift exchange, but I also see the "back to  barter" idea as a hard sell – not nearly as difficult as something like "communism" but not a winner either.
A really cool idea here is to shift the purpose of money away from "medium of exchange" and "store-of-value" to just "medium-of-exchange." It's the store-of-value, based on the fundamental economic assumption of scarcity that has triggered the demise of capitalism and its associated crises. In a world of abundance, store-of-value is less necessary, thus we see the gift economy, the commons, and introduction of concepts such as negative-interest money based on the ideas of the pioneering  theoretician Silvio Gesell. Essentially, it would be a money that, like bread, becomes less valuable over time…that decays in value. This promotes using money rather than accumulating.  In this approach, the only way to maintain wealth is to invest it at risk or, shall we say, to make wise decisions on how to direct the magical flow of human creativity. By making money impermanent, we preserve it as means but not as end.
The author is aware that he is proposing transformation. I liked his characterization of a "co-creative partnership with earth." I really, really liked this book. There is so much more I could write about. It may be my favorite so far. Very much what we are looking for in terms of Horizon 3 visions, with lots of fresh ideas and hope, but not preachy or overly squishy. Well worth your time! – Andy Hines