Knowledge work is emerging as the central focus of developed economies, with emerging markets making forays into it as well. The research began by describing knowledge work in a  domain map and a breakdown of key activities. They provide a framework for the analysis. Seventeen catalysts, or key drivers of change, emerged from combining trends that populated the domain map. Different outcomes for these catalysts were projected using a framework of four common archetypes of change—continuation, collapse, new equilibrium, and transformation—that resulted in the four scenarios for the future of knowledge work. The four scenarios provide a range of different views of how knowledge work may evolve over the next decade (the original research took place about 3-4 years ago, so the time frame of the scenarios was 2020, now just six years out).
The scenarios suggest a range of plausible outcomes for knowledge work out to 2020:
 Summarizing key implications
The table below highlights the key implications of each scenarios for the six key activities of knowledge work.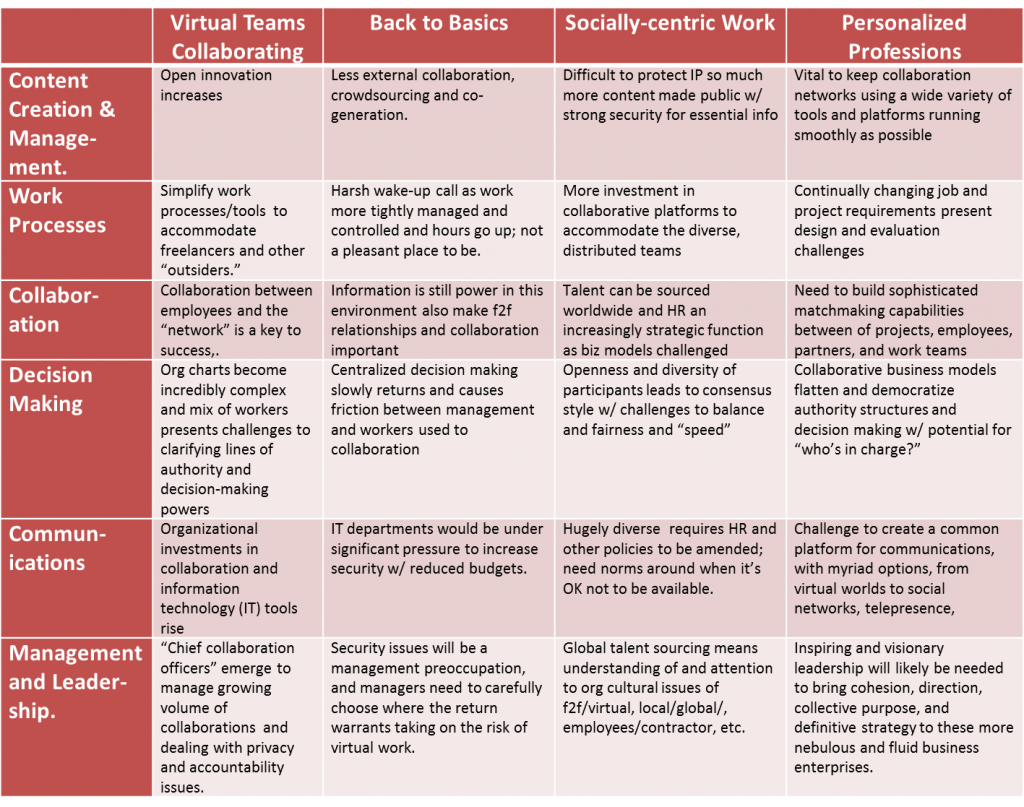 Human resources professionals, organizational leaders, or anyone interested in the future of work  can use these scenarios, and the analyses on which they are derived, to expand their perspective and evaluate their long-term strategies against a range of plausible outcomes. In reality, the future will likely include elements of all four of the scenarios described here. As such, using these scenarios as a strategic tool will be better prepared to thrive regardless of the exact nature of knowledge work in 2020 and beyond. Andy Hines