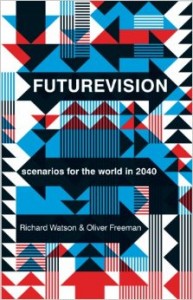 I am very pleased to recommend Futurevision: Scenarios for the World in 2040 by Richard Watson and Oliver Freeman as an addition to any futurist's bookshelf. Richard has written the well-received Future Files and Oliver traced his lineage through the Global Business Network among his many foresight-related endeavors. Their background suggests we pay attention and this work does not disappoint.
My immediate reaction is that this work is on that we can show to clients as representative of high-quality foresight work. And we certainly need as many of these as we can get.
The present four generic scenarios of the world in 2040 for an imaginary client of national governments. The scenarios are intended to demonstrate their approach to scenario planning, but the scenarios themselves are thoughtful and interesting. These are not skeleton or primarily illustrative scenarios designed solely to highlight the method, but are quite substantive offerings that would be interesting by themselves without the methodological description. It's a bonus that we get both and they are capably done.
The opening chapter on "why scenarios" is a nice primer for the uninitiated. I was struck by a nice graph on p.22 that highlight the different between "sensitivity analysis" and alternative scenarios (sorry for the tease!).
Their QUEST approach is nicely summarized in graphic format and explained – it is essentially a variation on the GBN 2×2 approach with some nice enhancements.
The four scenarios are (nicely using different Beatles songs to distinguish the four):
Imagine: A World of Intelligence: my sum of this is high technology and market forces combine to make life better for most.
Please, Please Me: A world of Greed: my sense of this one is that this one is consumerism gone wild with the interesting twist that it dominated by the BRICs.
Dear Prudence: A World of Temperance: this world is about sustainability driven by people taking responsibility for simplify their lives and is "a world where many things go backwards."
Helter Skelter: A World of Fear: this is world where the stuff hits the fan with climate change issues, financial implosion, rising food prices – you get the drift.
The scenarios are richly described and I suspect they will challenge your mental model of the world in 2040. For me, I compared their scenarios to four "archetype" scenarios that I've been using to describe the future, though mine are closer to 2025 than 2040. For what it's worth, you are probably familiar with how I've been describing the archetypes [see "fun with archetypes" and "the future of credit unions: four scenarios"]
My "continuation" scenario — Long Boom — is part "Imagine" and part "Please, Please Me." I suppose I'm a bit less sanguine about a really positive high-tech future if it's driven by today's market mindset.
My "collapse" scenario – Stagnation – is close to "Helter Skelter, but I much less dark. I have us more stuck in the mud than catastrophe.
My "new equilibrium" scenario – Our Turn – is closest to "Please, Please Me" as I also had the emerging markets as the new leaders of the global economy.
My "transformation" scenario – Soft Path – is closest to "Dear Prudence." One key difference is that I have more high-tech in my sustainability scenario. While I agree with less emphasis on consumption and that this is a values-driven scenario, I don't see it working without very significant use of technology for "greening."
I point out these differences to note how FutureVision caused me to ponder my own views of the future. It's fun and useful to have different views to compare and contrast – to explore how other futurists see events playing out and look at their reasoning.
My only quibbles came in the introduction and mostly related to the use of terms and characterizations of the field. I don't at all fault the authors, but note that we as a field would really benefit from getting our story together on some of the essentials. We are working on this with the APF's "Professionalization" Task Force, which I believe is a step in the right direction, but just one of many steps needed on our journey to "growing up" as a field. Futurevision does us a great service in this regard by providing a first-class example of solid foresight work.  Andy Hines