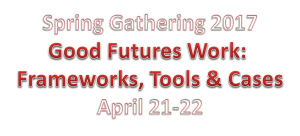 The Houston Foresight Program is having its annual Spring Gathering this weekend on the theme of "Good Futures Work." I chaired a "Professionalization" effort for APF in which we developed a plan for building a case for professionalization. At the same time, and this is really important, the effort gave us an opportunity to develop and tell our story as a field. Who are we, what do we do, and how do we do it? Some find this to be navel-gazing and just want to get on with it. That's fine, please do, we need people out there doing good work. For those of us taking the long view (and shouldn't futurists be doing this), these questions are important.
Especially to me, as a teacher of aspiring futurists, it is important to first get a handle on what is considered futures work – before we can evaluate the work. One of the first projects carried out by the Professionalization Task Force, after doing the overall plan, we to do develop a competency model. What are the key things we all agree are the common competencies (knowledge, skills, and abilities) to doing foresight work? I really enjoyed working with the Competency Model team to come up with it. A publication highlighting the effort is on the Department of Labor site, but we are working on a detaield piece about it for World Futures Review.
So, the next step is standards and professional development. With agreement on competencies, we can explore deeper what good work involving those competencies looks like. Certainly, some of this work has already been going on. Richard Slaughter had been chronicling the state of futures work for years. Colleague Terry Grim developed the Foresight Maturity Model that evaluates the state of organizational development in six competencies.
The development of competencies and standards, thus, sets the stage for fine-tuning professional development. Again, this work can go on now. It has gone on to some degree in the past. It's a matter of continuing to develop and mature as a field.
This weekend in Houston we want to sort of kick that off by sharing among ourselves the good futures work we are doing. — Andy Hines