One of the great challenges of foresight work has been to establish a consistent ongoing horizon scanning system within organizations. Alongside that has been the equally difficult challenge of teaching beginners how to do horizon scanning in the first place. I am pleased to share a new article that takes on both challenges that was recently published in the excellent foresight journal World Futures Review. I encourage readers to subscribe to this journal with its practical focus on how to improve the practice of foresight.
The article I refer to is Setting Up a Horizon Scanning System: A Federal Agency Example that I co-authored with two colleagues from the US Forest Service, Dave Bengston and Mike Dockry, and a Houston Foresight grad student (now alum) Adam Cowart.
While we certainly do not claim to have solved the twin challenges setting up a scanning system and teaching scanning to beginners, we hope that we have made a useful contribution towards those ends.
The article reports on the design and early stage development and implementation of a horizon scanning system established for the U.S. Forest Service (USFS), Strategic Foresight Group, and developed cooperatively with the University of Houston Foresight Program. The goal of the project is to develop an ongoing horizon scanning system as an input to developing environmental foresight: insight into future environmental challenges and opportunities, and the ability to apply that insight to prepare for a sustainable future.
In addition, the horizon scanning system is supported by volunteers from within the Forest Service. To that end, we also focused on how to make the teaching of scanning more accessible – a mission important to all aspects of teaching provided by Houston Foresight.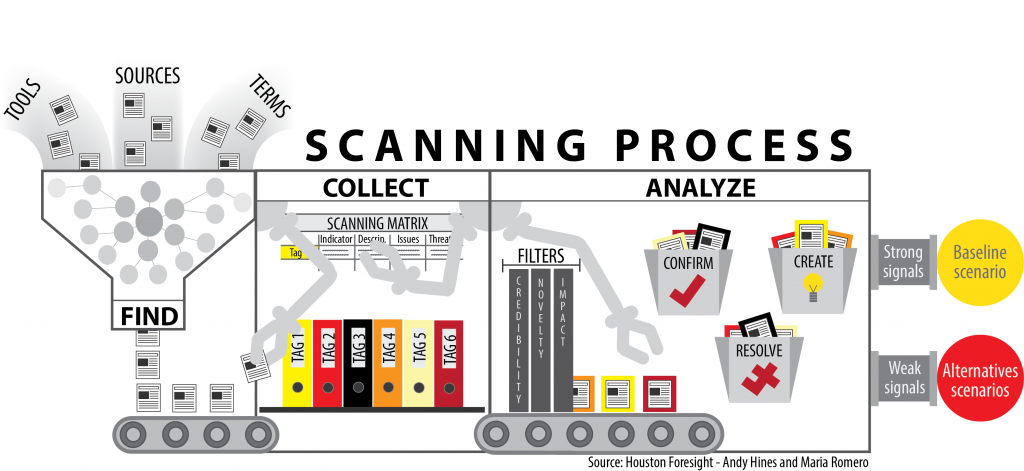 The scanning process is summarized in the graphic below. We've found it useful to break scanning into three steps
Finding the hits (including creating a domain map, and search terms/tools/sources
Collecting the hits (use of cloud-based library and tagging system along three horizons)
Analyzing the hits (from simple triage, to criteria, to weighted indices)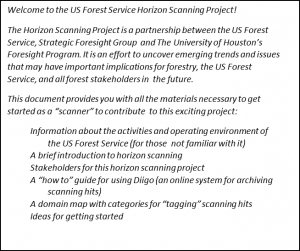 An interesting addition to the "set up" and teaching of the horizon scanning system was the development of a brief Scanner Guide. The figure to the right captures the highlights. We've been tweaking it as we go and hear back from the volunteers and refine the scanning system.
Many thanks to our great friends Dave and Mike at the US Forest Service, and the many students who've worked on the project: Adam Cowart, Maria Romero, Johann Schutte, Will Williamson, Liah Johnson, Bo Roe, Kimberly Daniels, Kurt Callaway, ! – Andy Hines