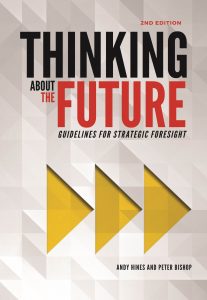 I am very pleased to announce that I've reach an agreement with the Future Foresight Foundation to translate the 2nd edition of Thinking about the Future into Arabic.
It is truly amazing to witness the explosion of interest in the future in the United Arab Emirates (UAE), particularly within Abu Dhabi and Dubai. It reminds me of Singapore a few decades ago. When they committed to learning about the future, they sent people to practically every futures meeting on the planet (there always seemed to be two people from Singapore attending no matter how obscure the meeting). Fast forward to the present, and I would say that the Singapore government is the most futures-oriented in the world.
The UAE is poised to be next! They have been at it for a while. My sense of a key event was the 2010 announcement of the UAE Vision 2021. Most of my learning came from the great work that futurist colleague Noah Raford was doing in advising the Prime Minister. He is now the COO of the Dubai Future Foundation. In the last few years, the work has become much more public. The amazing Museum for the Future proposal won an APF MSFW prize in 2015.
Indeed, I have done a few projects with colleagues in the UAE and our Houston Foresight program collaborated with the FFF to do a project for the GDRFA. Sulaiman Alkaabi came to our week-long foresight boot camp (much like the Singaporans once did) and became a big champion for the future within the Abu Dhabi police. He then founded FFF and began translating futures work into Arabic. I am honored that he chose Thinking about the Future.
If you haven't been watching developments in the UAE, tune in! Andy Hines.
Save