Our protagonist from First & Last Men moves on to the cosmos, travelling to other solar systems and worlds, in Starmaker. He travels through the space and time into the future (and backward to the past) – often "inhabiting" the beings he is observing and studying — and reports back to us. [I can see the inspiration for my colleague and Foresight Program Advisory Board member Oliver Markley's virtual time travel technique]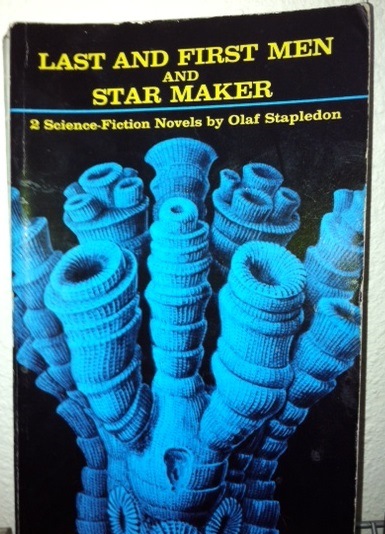 He quickly realizes man is not a unique being. He sees the same cycle of dark ages and ages of brilliance, advances and retreats, rises and falls, that characterized men as he traverses the cosmos. He had noted that men had climbed to heights time after time, "only to be undone by some hidden consequence of his own achievement." Turns out largely the same with other races – some external accident or flaw in their own nature, would undo them.  A common theme in the decline of societies is the splitting of the population into two mutually unintelligible castes through the influence of economic forces. He concluded that the mind is tender and easily misdirected as it develops, except at the very highest stage of development.
He picked up a band of fellow time travelers along the way and noted they were oppressed by a sense of futility at the planlessness of the cosmos: "It seems that the universe, or the maker of the universe, must be indifferent to the fate of the worlds." He later softens that stance to see the Starmaker (supreme being) as creating the initial conditions and then letting it play out – without interfering.
They found that intelligent worlds are very rare indeed. When they found them, a similar spiritual crisis arose, in which the worlds would be unable to both become capable of true community on a world-wide scale and achieve an appropriate spiritual attitude toward the universe. There's more to the story, but I think the message I took away is evident. In the grand sweep of space and time, we are rather insignificant – lending us some perspective and humility, perhaps – and that development or progress is not easy or inevitable, and if we aren't careful, the cyclical prophecy he suggests will be fulfilled. This work is directly relevant to our Social Change class, where we study various theories of long-term social change. Progress Theory assumes that things are consistently improving over time, while Cycle Theory suggests an inevitable rise and fall. Stapledon suggests it's Cycle Theory that prevails — what do you think? Andy Hines