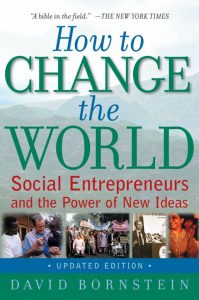 We're always exploring new things to teach at the Houston Foresight program. One topic that has come up a lot in recent years is social entrepreneurship. We salt some in – for instance, we teach a whole course on Social Change, and social entrepreneurs are creators of social change. but it would be really cool to put together an elective, or work in a dedicated module. We've had some students come to the program with social entrepreneurship aims in mind – as they see foresight as an enabler for them. And in discussing "what can I do with a foresight degree," we increasingly discuss social entrepreneurship as an option.
I remember a presentation at one of Social Technologies old consortium meetings from Ashoka on the topic and remembered that we gave away a book for it. Lo and behold, sitting in my to-read pile was How to Change the World: Social Entrepreneurs and the Power of New Ideas.
The author, David Bornstein, provides an elegant blend of analysis and personal stories. He argues that "important social change frequently begs with a single entrepreneurial author." And goes on to note that "one of the most important things that can be done to improve the state of the world is to build a framework of social and economic supports to multiply the number and the effectiveness of the world's social entrepreneurs." If so, shouldn't we in foresight be doing our part?
The book makes the case that social entrepreneurship is spreading and gaining more influence. The demand for innovative approaches and supply of entrepreneurs are both going up. Chapters of the book tell the stories of social entrepreneurs supported by Ashoka, and also include analysis and lessons learned. I found the mix to be right on target – inspiration and practical advice together make a powerful combination.
I'd be very interested in more resources on social entrepreneurship – articles, websites, cases, examples – so that we can work more of it into the curriculum. Our vision suggests that foresight is a vital tool for helping to make the world a better place – supporting social entrepreneurship has to be an increasingly important part of that vision. Andy Hines